This week some
folks
in the
blogasphere
and on
rabble
have been playing around with their political compass and where they stand. At rabble one poster thought it would be more enlightening and revealing to put up where the political parties were positioned, based on their election platforms. But what about their policy positions taken through their actual actions in the political arena - the House of Commons? Where do they actually stand when the "rubber hits the mat" so to speak?
Posted here, I believe that it adds an important dimension to the debate. Do the parties we support actually represent our beliefs or values when compared to their actual policies or positions taken during the Canadian general election 2008? What about when they act on our behalf while in government or in opposition?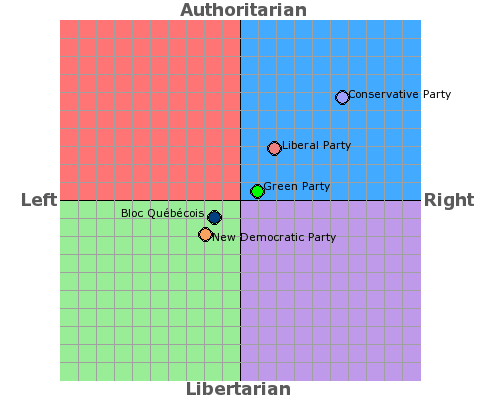 As stated
here
:
The Conservative Party's move further towards the Bush-Reagan mix of free market economics with social conservatism makes the somewhat mercurial Liberals look more moderate, despite their own rightward drift. An emphasis on environmental issues has helped the Liberals downplay deep differences within the party on other key issues. The Greens, more fiscally conservative than most of their sister parties, also harbour significant left-right differences within their ranks. Similarly Bloc Québécois is united in its core cause, but considerably divided in other policy areas. In provinces where the NDP has governed in recent years, social spending cutbacks and other nods towards neoliberalism place the party today closer to where the Liberals were two decades ago.

Incidentally, my positioning is thusly placed more economically left and libertarian to the NDP.
RESULTS: Economic Left/Right: -9.38
Social Libertarian/Authoritarian: -7.69
Take the test
, and see where you sit on the chart. We'll see where everyone stands in relation to the political party they support. If you want to play, just leave your result (the economic/social numbers) in the comments section.
H/T to
Mojoroad1
over at Rabble for creating the political parties "political compass"